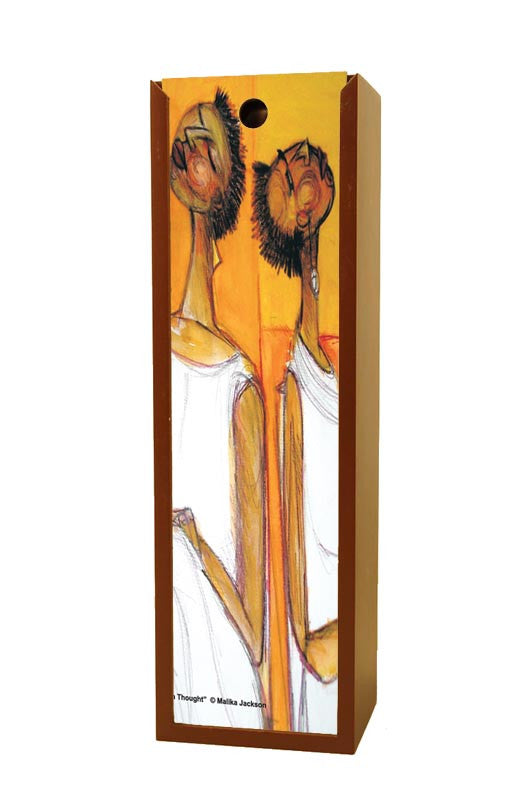 Exterior Size: 14.25" x 4.25" x 3.875"
Interior Size: 13" x 3.5" x 3.25"
Wine Bottle Box with rosewood finish & decorated sliding door. Box holds standard wine bottle (750ml). Makes excellent barware, man cave & house warming gift.
. Rosewood Finish
. Decorated sliding door
. Black Satin fabric lining
. Holds standard bottle (750ml)
Sale price
$49.00 USD
Regular price
$57.00 USD
In Thought
Sale price
$49.00 USD
Regular price
$57.00 USD
Malika Jackson
Shipping & Return
Product reviews
Malika Jackson is an artist who lives and works in the Chicago area.

She was selected for the 'Center' Residency Program-2013 (The Hyde Park Art Center). Her works have been exhibited at galleries, festivals and numerous exhibitions. The most recent commission - the Ronald McDonald Houses' tribute to the Ryder Cup Tournament held in Chicago, 2013; Recent exhibits - featured in the Diasporal Rhythms 10 year Retrospect at the Logan Center, Woman Made Gallery: From the Earth, Sapphire & Crystals Gallery Romain (Peoria, Il), South Shore Cultural Center - Artist Month Celebration. The 48th Annual Art Auction (South Side Community Art Center), Gallery D'Estee and Cultural Connection Art Shows and the Woodshop Gallery (Chicago), Noyes Gallery (Evanston) Community Art Center, Artropolis-Merchandise Mart, COLOURS-Navy Pier (Chicago), and numerous other venues.

Awards include, honorable mention-Museum of Science and Industry, honored by the Disaporal Rhythms Fine Art Association, art grant from the City of Chicago, design awards - Ann Brooks and the Fur International Awards. Commissions for public art work through the City of Chicago.

Featured in Huffington Post-Paul Klien's Art Review, The Reader newspaper, Malika is featured in the film 'Curators of Dixon', film by Pamela Anderson Sherrod and 'Producing Local Color'-Art Network in Ethnic Chicago', book by Diane Grams.

Malika has taught in the Chicago Public Schools, Charter School and various Community Organizations.

Malika received her BFA from the School of the Art Institute, and further studies at Illinois State University, Normal, Illinois.
Shipping cost is based on weight. Just add products to your cart and use the Shipping Calculator to see the shipping price.
Payments
We accept Apple Pay, Visa, MasterCard, American Express, Discover, PayPal, checks and money orders.
Checks or money orders must be cleared by the bank prior to shipping.
Shipping and Handling
We ship via UPS and USPS to the forty-eight contiguous United States and Canada.
Most international shipments will be shipped via USPS.
Please allow 48 hours for processing. Longer processing times may occur during the holiday season.
Note-Due to the COVID-19 pandemic and the increased demand for our products, some processing times have been as long as 3 weeks.
Shipping charges are displayed in the checkout form located in your shopping cart. If you desire overnight or expedited delivery, please let us know in the comment section of the shopping cart. In most cases, these shipping charges are more expensive and vary according to destination, size of package and weight.
Any address changes made through the shipping company (UPS), resulting in additional fees, after an order has been shipped, will be charged directly to the customer.
Standard shipping rates do not apply to international shipments. The lowest cost method of shipment will be used to ship your order.
Orders from Illinois residents are subject to a 10.25% sales tax.
Return Policy
Our company offers only the finest products available, and we make every effort to meet your high standards for quality products, accurate descriptions, reliable shipping, and exceptional customer service. If you should experience a problem, question, or concern, please contact us immediately.
Our merchandise is guaranteed for 30 days from the original date of purchase.
We agree to our option to repair or replace any defective merchandise during the 30-day warranty period.
Defective products returned to us in their original packaging will be replaced or repaired.
Defective products returned to us, missing accessories or original packaging will be replaced or repaired as received.
A 20% Restocking fee will apply on non-defective returns if store credit is requested (Sorry No Cash Refunds).
Shipping and handling charges are always non-refundable.
Please allow 48 hours for processing.
No returns sent COD will be accepted. Returns must be sent pre-paid.
You must request a Return Authorization (RA) Number before returning any item.
Any returned package that does not have an RA number will be returned to the sender.
The returned item should include the RA number clearly labeled on the outside of the package.
Please include a note explaining the problem and the appropriate "return shipping address".