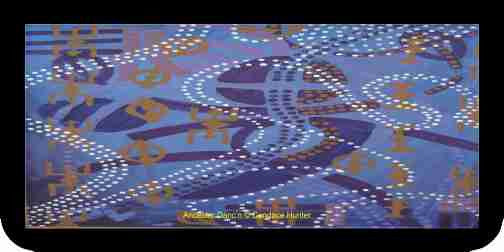 Size: 3 1/2" x 6 1/2" folded

Bi-fold checkbook cover with sturdy nylon cover. Slip pockets for credit cards, ID & plastic flap for checks and checkbook.

. Made of sturdy Black Nylon
. Holds standard size checks
. Slot for paper currency
. Has four pockets for credit cards or ID
. Slot for checkbook with plastic flap for checks
Sale price
$18.00 USD
Regular price
Ancestor Danc'n
Sale price
$18.00 USD
Regular price
Candace Hunter
Shipping & Return
Product reviews
Visual Artist, Lecturer, Arts Writer, Performance Artist

Chicago based, Ms. Hunter studied Fine Arts at Barat and Mundelein Colleges. She has resided in New York, LA (twice), Miami and Singapore, with travels to Switzerland, France, Spain, Portugal, Korea, and Brazil. Still on the list...Addis Ababa, Mauritius, Johannesburg...

Ms. Hunter's three year solo series: "Prayer Circles: Sacred Text and Abstract Thought", concluded in 2005, at which time she embarked on her "50 x 50" tour which took her work to LA, Houston, New York, Newark and Miami.

Recently, chlee's work has been included in highly successful shows at the Nicole Gallery, a solo show at ETA Creative Arts Foundation, group shows at the Flat Iron Building, the National Black Fine Art Show, "Art of the Diaspora: the Dan Parker Collection", showcased at the UNITY 2008 Journalists of Color National Conference, the 2008 Chicago Jazz Festival, "Women in the Course of their Daily Lives" at the Grace Institute in NYC, and the Midsummer Arts Faire (Quincy, IL) where she won first place in the Young Collector's Gallery.

Ms. Hunter served as the Arts & Culture Editor for the N'DIGO newspaper for seven years and oft was an arts correspondent for WTTW- Channel 11 and as an arts correspondent on WBEZ, the city's public radio station. She is a sought after arts auctioneer and often sits on panels for the city and arts entities within the city.

Her art is impacted by her early fascination with handwriting, the magnificence of cathedrals, the brilliance of bridges, the eyes and hands of the Emperor of Ethiopia, and a deep love of race. These things have compelled the woman to be artist -- to illuminate whenever possible, to investigate as much as possible, and to respect...always.

Her work has been collected locally and nationally, including: The Interfaith Center of Manhattan, Church of the Three Crosses (Chgo), the SonEdna Foundation (MS), Nancy Giles (CBS Sunday Morning), Julian Roberts and Amina Dickerson, Dr. & Mrs. Lawrence Dorsey, Patric McCoy (Pres., Diasporal Rhythyms), Dan Parker (Author, "Art of the Diaspora"), Samm-Art Williams, Mr. & Mrs. Paul Carter Harrison, Ronne Hartfield, Kai El'Zabar, Alita Tucker, Arlene Crawford, and many others.
Shipping cost is based on weight. Just add products to your cart and use the Shipping Calculator to see the shipping price.
Payments
We accept Apple Pay, Visa, MasterCard, American Express, Discover, PayPal, checks and money orders.
Checks or money orders must be cleared by the bank prior to shipping.
Shipping and Handling
We ship via UPS and USPS to the forty-eight contiguous United States and Canada.
Most international shipments will be shipped via USPS.
Please allow 48 hours for processing. Longer processing times may occur during the holiday season.
Note-Due to the COVID-19 pandemic and the increased demand for our products, some processing times have been as long as 3 weeks.
Shipping charges are displayed in the checkout form located in your shopping cart. If you desire overnight or expedited delivery, please let us know in the comment section of the shopping cart. In most cases, these shipping charges are more expensive and vary according to destination, size of package and weight.
Any address changes made through the shipping company (UPS), resulting in additional fees, after an order has been shipped, will be charged directly to the customer.
Standard shipping rates do not apply to international shipments. The lowest cost method of shipment will be used to ship your order.
Orders from Illinois residents are subject to a 10.25% sales tax.
Return Policy
Our company offers only the finest products available, and we make every effort to meet your high standards for quality products, accurate descriptions, reliable shipping, and exceptional customer service. If you should experience a problem, question, or concern, please contact us immediately.
Our merchandise is guaranteed for 30 days from the original date of purchase.
We agree to our option to repair or replace any defective merchandise during the 30-day warranty period.
Defective products returned to us in their original packaging will be replaced or repaired.
Defective products returned to us, missing accessories or original packaging will be replaced or repaired as received.
A 20% Restocking fee will apply on non-defective returns if store credit is requested (Sorry No Cash Refunds).
Shipping and handling charges are always non-refundable.
Please allow 48 hours for processing.
No returns sent COD will be accepted. Returns must be sent pre-paid.
You must request a Return Authorization (RA) Number before returning any item.
Any returned package that does not have an RA number will be returned to the sender.
The returned item should include the RA number clearly labeled on the outside of the package.
Please include a note explaining the problem and the appropriate "return shipping address".